Table of Contents
Introduction
Everything started with this book my girlfriend gave me in christmas 2011 - a german guide for the Pembrokeshire coast path So we started to prepare to walk about three weeks through Wales. Having it never done was the interesting part. As we didnt want to go with a tent, but sleep in bed & breakfast accomodations I started phoning quite a bit to reserve us a save stay for every night. Then at the end of July 2012, we finally started our journey. This blog post tells the story of our trip.
Your trip may be completely different, but maybe you can get a couple of good tips from this one.
Travelling to Pembrokeshire
Living in Munich meant to get to the UK first. We flew over to Birmingham, then took the train to Aberystwyth, where we stayed for the night. Aberystwyth is a wonderful small city, where I spent my first holidays after studying and fell in love with the countryside. It has a couple of nice restaurants (including the awesome Lights of Asia, great views to the sea and a couple of walks around it. After sleeping and stocking here, we went off to Cardigan the next day. On weekdays there is a bus going from Aberystwyth to Cardigan.
Cardigan to Poppit Sands
It is only 90 minutes walk from Cardigan to Poppit Sands, so you could possibly walk far further. However you should totally stop by and walk over to Poppit Sands. It is a huge beach, where you can go out on the sand on low tide and have the sea in front of you and the river behind you, so water everywhere. We had great luck with the weather and caught a great sunny day.
Poppit sands with low tide
Somewhere is next days path...
The river going inward from poppit sands
Accomodation
The Webley Hotel - A very nice accomodation. Also the only one around, featuring a pub as well. No supermarket nearby, so you should be stocked when you arrive here.
Poppit sands to Moylgrove
The first day. Excited to hit it off. And we immediately hit quite steep ascendings. However it was totally worth it, after passing Poppit Sands, you walk along cliff lines all the time, which are just stunning. Having no cell phone network shows, you are quite in the middle of nowhere. We met the first walkers, which were from New Zealand - and even with that countryside in front of their door, they found that path astonishing. We had to get about 2km back into the country side to get to the bed and breakfast, so if you want to do a really long tour you might be able to skip here. The first day with backpack was definately tough and I am happy we stopped here.
The start...
steep cliffs
.. everywhere
... really
the bay near moylgrove we went into the countryside
b&b garden
Accomodation
Glan Yr Afon B&B. Again very nice. Very new bath room, nice garden and breakfast. Not sure if it still exists, had been for sale back then. No supermarkets or restaurants.
Moylgrove to Newport
After heading back to the sea, we were hit with exceptionally nice weather (to be honest, we did not have any rain for the first 10 days of our tour), and we were happy we brought enough to drink. For the first time ever the official coastal path crossed a golf course. Awesome :-)
Back on track
Best weather...
Spot the track..
just nice...
... no matter in which direction you look
Dina's head on the right
Newport is coming near
Dinas head, now much nearer
Crossing the golf course
Accomodation
Newport is quite expensive compared to other towns here. We were in a private B&B run by an elder woman. Admittantly the B&B was cheaper than most, but it had cats and dogs and a shared bathroom - however no other guests. Anyway, you get what you pay for, as this was a bit cheaper than all the others in the city.
Newport to Fishguard
We hit the first day with fog and barely saw the sea. We decided to take a shortcut at Dina's head as there was no chance to see anything great. After we arrived at the other side of dina's head, the view cleared a bit. Also it rained a bit, when we arrived in Fishguard, but we were already back in the hotel then.
Foggy
When we arrived at the bay
Cleared up after break...
Fishguard in the background
Accomodation
Tara Hotel A nice little hotel with good breakfeast and a fair price. Needed to book by phone, maybe they are connected to some booking engines now.
Trefin to Abereiddy
Usually the next trip goes to Pwll Deri past a neat lighthouse. That area is a nature reserve and supposed to be beautiful. However, being a reserve also implies there is no space to sleep except for a YHA hostel, which had already been fully booked. So we took the bus to Trefin and started our way to Abereiddy. We made a quick stop in Porthgain, which is a very small village with a harbour. However they have a fine restaurant called The shed, where we finally got our first real brewed coffee after our first week (the coffee in b&b is really awful, but I kept trying it everyday). Never seen my girlfriend happier on this tour (yes, we are coffee junkies). We arrived at Abereiddy, which is a small bay that in addition contains a nice little lagoon, where you can jump of 10m cliffs if you like to, or go coastering. Or just chill and do nothing, like we did after we checked into our B&B, which was a bit into the countryside.
Perfect day
Wonderful weather
Porthgain
steep coast
Blue lagoon
Abereiddi bay
Accomodation
Cwmwdig Water Guest House Nice, new rooms. About 2.5km from the coastal path. No supermarkets or restaurants nearby. Awesome breakfast.
Abereiddy to Whitesands Bay
Another day with awesome weather. We found a map on the path, right when we started coming back from the B&B. About three hours later, a couple came towards us asking, if we had seen a map. Guess they were looking for a while. Also, we met wild horses on our way to whitesands bay, which was totally packed at that day. Quite a lot of up and down, so this is a quite demanding day. But great views all the way.
Start of the day
They were nice and trusting...
Up and down the whole day
taking a break
looking back...
Whitesands bay to the left, Ramsey Island to the right
Accomodation
We stayed at the local YHA - which was absolutely disappointing (luckily we didnt get a bed in Pwll Deri). First, it cost 26 pounds per person without breakfast, so you have to pay about the same amount of money as in most other B&Bs. Also, no own bath facilities, bunk beds and having to put bed linen on and off the bed. Quite expensive for no service at all. Also no supermarkets nearby. However you can have a nice breakfast directly at Whitesands Bay.
Whitesands Bay to St. Davids
After having a breakfast directly at the beach, we went along ramsey island for quite some time, until we turned east towards St. Brides Bay and then into the countryside to St. Davids - which is quite big and has a couple of restaurants and supermarkets for restocking. Also a pharmacy, if you need. We went eating in the Old Cross directly in the city centre, which was packed with tourists and locals in the evening.
Empty Whitesands Bay in the morning
Ramsey Island
St. Brides Bay
Towards St. Davids
Freaky stones
Porthclais
Accomodation
City Inn B&B - Nice, but a bit bigger B&B with a small pub built in. St. Davids has plenty of supermarkets to restock.
Solva to Newgale
As I was battling a sore throat for a couple of days we decided to go to Solva by bus (saved about 5km). There is a small cafe in Solva harbour which made a nice coffee, so we could start off. Newgale beach is a blue flag (clean quality) beach and a couple of kilometres wide with windsurfers, kites. And really windy. Also it looks as if you are almost there the whole day, but there are a couple of bays and quite some ups and downs, so dont be fooled by its size. Even though there are two camping sites sites, Newgale did not have a supermarket. Saw a restaurant, but we did not want to go back, as the B&B was not near the sea.
Directly after Solva
Private bays
Clouds
Newgale beach
Coming nearer
Almost there
Accomodation
Ty Coed De B&B Ty Coed De B&B - Great B&B, however 3km distanced from the sea (there really is nothing around) directly at the main road. If you tell the owner you are a walker, you are actually picked up at Newgale beach instead of needing to walk up there directly. The owner also brought us down the next day. Also, great breakfast.
Newgale to Broad Haven
The first day we actually started with rain. Quite a slippery route up and down after we passed Newgale beach. But again, very nice. Also the weather got a bit better over the day. As this area is directly facing to the sea, it is really windy, so make sure you have some sort of protection if you are sensible.
Newgale beach with rain
First time with rain clothes
Broad haven is in that little bay
View from our room
Accomodation
Awesome B&B (everything new), we arrived quite early where noone was there, so we went restocking and to a cafe in the town, as the B&B is about 15 minutes up the hills.
Broad Haven to Marloes
Another day with a rainstorm hammering down on us, so we decided to take the bus to skip the first kilometres again. However as they weather turned into great wheather over the day, we actually decided to go the whole coastal path around Marloes and to approach it from the south instead of from north as we originally wanted. After the bus brought us to St. Brides (to be honest, I am not sure anymore, but I think this is where we went), it stopped raining and we had a great, but incredibly windy day, where we sorrounded Marloes, passed Martins Haven, saw Skomer Island and then went to Marloes. Marloes has a kind-of supermarkt, that closes at 5 and one pub - which had great food, especially the pint of king prawns was awesome and fresh according to my girlfriend.
wind... and parked ships
more wind
even more wind
clearing up
Marloes sands
Accomodation
Foxdale Guest house One of the few disappointing B&Bs in our list. Not being en-suite, yet with a private bath room, but nowhere near four stars compared to other accomodations we had. Nothing which was bad, but just not as nice as the others and played in the same price league. Was the only one in town not fully booked.
Marloes to Dale
Finally the weather is great again, and we went on our way to Dale. The first picture below shows Marloes sands, you can see, how much nicer the bay actually looks with good weather compared to the last picture of the day before. Dale is an awesome tiny fishing village (at least how you imagine it to be). It is inside a bay, doesnt suffer from hard winds, so many people surf there for the first time. Also it features one nice very packed pub, but it was an absolutely relaxing atmosphere. It is right next to the water, so you can grab your beer and sit at the quayside. Also the most expensive B&B prices.
Marloes sands
Marloes sands
Some wild horses
St. Annes Head
Private bay for our break
Almost in Dale
Now really almost in Dale
Accomodation
Broadside B&B. My only booking screw up actually happened here. I booked us in at Allenbrook bed and breakfast (which is an awesome house!), but noone was there. However I mailed one time the right and one time the wrong date, so this is partly my fault. Luckily there was a second bed and breakfast, which was not fully booked.
Milford Haven to Neyland
As the coastal path to Milford Haven is higly dependant on tidal waves and we were too lazy to look it up, we took the bus to Milford Haven, restocked in the local Tesco and went to Neyland. You can clearly see, that you just entered a city and an industrial area - I think it makes completely sense to skip this part, as going along refineries is a non-needed part.
The path going over oil pipelines
Ferries from Ireland
Parking garage for boats in Neyland. Never seen it before
Accomodation
Tideways B&B - This B&B is run by a totally nice old guy, who is mainly doing this to have some company. He invited us for wine and beer in the evening, and we watched Andy Murray on his road to win the Olympic medal, while talking about the joys of travelling. He also offered us to give us a ride the next day, but that kinda defied the principle. No supermarkets or restaurants nearby though, as this is in a housing area. He even printed us a photo for remembering the B&B, great marketing (he ran a hotel before he went into retirement).
Neyland to Pembroke
Despite good wheather, this was actually the worst day on our tour and both of us were really stressed (okok, me a bit more). First we crossed the big Cleddau Brige. The signs were really bad this day, when we went across pembroke docks, we had to go back a couple of times. Then we left the city and went into the nature again. However there were actually no signs at all and we tried to go near the water - which turned out to be a bad idea, as it was quite swamp like and it was hard going forward. When we finally found the path signs again, we were actually kind of attacked by a horse, which wouldnt let us pass its range land (it was really aggressive). So we had to take huge turns and a 5km relaxed day trip turned into six hour walk. If you are into culture, you can checkout the Pembroke Castle in the city. There are also enough supermarkets and restaurants.
No photos taken. Tells a lot about the mood. :-)
Accomodation
Coach House Hotel. At least the hotel was great. We got a brand new room and the bus we needed to take the next day, left directly in front. While waiting for the bus an elderly woman came across us and mentioned that they once caught a couple of poisonous abandoned snakes where we wanted to go (and one person of course got bitten). Maybe not the greatest marketing strategy :-)
Bosherston to Freshwater East
According to the plan, the tour would go to the west to Angle. However there is a army shooting range nearby, which, when in use, forbids you to enter and would have resulted in having to walk all along a main road. So we went to Bosherston by bus. Also, after two days walking through towns again, we were really eager to see the water again. We stopped directly at the Lily Ponds near Bosherston. They are really awesome, we actually forgot to take the right turn to leave them and walked way further instead of going to the sea directly. But it was really nice. Back at the sea, we directly came out at a Stackpole parking lot, where we found a restaurant with great coffee (would be happy to provide a link here, but I could not find anything). Luckily we arrived at our b&b twenty minutes before it rained for hours.
Lily ponds
Lily ponds
Secured bridges
More lily ponds
Happy to be back at the water
Freshwater East beach
Looking left...
... looking right
Accomodation
Rosedene Guest House - Quite a walk from the coastal path, but there was nothing nearby. Nice rooms, good breakfast. Neither supermarket nor restaurants nearby. In the middle of nowhere.
Freshwater East to Lydstep
Seemingly short, this day trip goes a lot up and down, so be prepared. Apart from that we had good weather and slowly knew our trip is going to end anytime soon. We came along a holiday trailer city in Lydstep, where I couldnt even buy a coffee in the restaurant, because it was for residents only. However, there is also a small super market where you can restock.
Freshwater East Beach
Inaccessible beaches due to cliffs
Lydstep beach in all its 'beauty'
Accomodation
Giltar Grove B&B - This one is a bit hidden, as you have to leave the coastal path across range land after you passed Lydstep Beach at the right time. Apart from that it is nice. No restaurants or super markets nearby, as it is in the middle of nowhere again.
Lydstep to Tenby
Last day. Only a couple of kilometres. Crossing a closed out shooting range before arriving at the long Tenby Beach. We did a coffee break at a brand new restaurant, when it starting to rain hard (just by searching for the hotel in Tenby we got completely soaked up). The also went dining in the restaurant, and it was totally awesome. Now it is called South beach bar grill - I am not sure if it was named like that two years ago, but I think so.
Tenby
Houses
Tenby
Accomodation
We stayed at the Deer Park Guesthouse for two days (no link, except for booking engines). Nice breakfast, good room, not too expensive. We returned to Aberystwyth again by taking the bus from Tenby to Carmarthen and from there to Aberystwyth
Maps
First, the official Wales Coastal Path maps are really good and exact (used them on our second trip), but we got this map > and it was incredibly useful. This is all I need. It is not up-to-date with supermarkets and ATMs (there are more now) but apart from that it is incredibly detailed.
Gear
Have good gear, but dont go nuts - that is what we tried to do. Here is a short list of what you should bring with you
Rain jacket, rain trousers (and normal ones)
Fleece jacket (against the wind), maybe a soft shell jacket is enough, climate is mild
Good shoes with profile. I even had low shoes, but would switch to high ones today.
A couple of fast drying shirts
Second pair of shoes for the evening
Had a 45 litres back pack, which was not filled, but weighed about 15kg including three litres of water and food for two days (make sure the rain protection can be clipped somewhere at your backpack due to the wind)
Sun cream, after sun lotion - you are sweating a lot at the beginning and wash off the sun protection
My kindle. You immediately fall asleep the first nights, but after some time I got to read a bit. Pro tip: Dont tell your girlfriend you only brought tech books :-)
Power converter
Plasters
Obviously there are also some things I wish I had
A long sleeve, because even a thin fleece was too warm, but a shirt to cold due to lots of wind
A scarf or something similar. Really, its windy
Things we did not need
GPS device. The great thing about a coastal path is, there is one direction you are coming from, so the other one must be the one to go. Gets harder in towns though :-)
And to prove it, that I really went light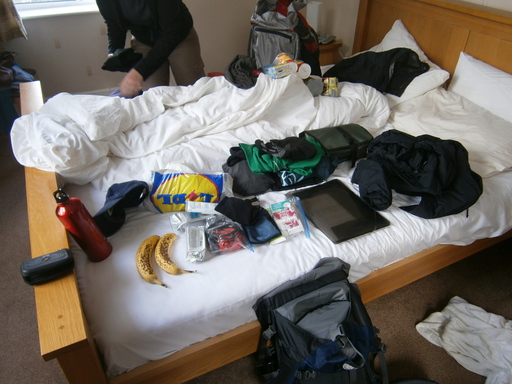 Summary
Just go for it. It was awesome trip and we liked it so much, that we did something similar again in 2013. Spending three weeks with your significant other without interruption also shows your relationship works. :-)
Admitted, we had insane luck with the weather and maybe we would have thought different about the trip if we had spent most of the time in rainy weather, but I guess thats a bet you make when hiking in Wales.
Also, when we found people on our way, they were always helpful. The track is nowhere near overcrowded, if you meet more than 10 persons a day, it is really rare.
If you have any question, check the imprint and feel free to write me a mail anytime