Table of Contents
Introduction
After the beatiful tour in 2012 it was evident to take another hiking holiday. After checking out prices in Canada, we decided to go Wales again, as it was a lot cheaper. As a walking path along the complete wales coast had been completed the year before, we decided to check out the northern parts of wales. It is quite hard to find b&b's along the way, so we had to skip quite a few parts and take the bus to move on a couple of times. Also, we had to get back to our starting point in order to get back to the airport again.
Travelling to Llanfairfechan
We arrived by plane in Manchester, and took the the train to Llanfairfechan. There is a direct one operated by Arriva Trains. Pro tip: Get all your tickets, even the one going from the Airport to Manchester, upfront, as you might need to wait. The train to Wales goes every two hours, so we had to wait a little in Manchester Central. The train takes a bit over three hours to reach LLanfairfechan - do not even think to pronounce it right, north Wales is really hard in that terms. We arrived with really windy weather at Llanfairfechan and made our trip to the first b&b. As we looked lost, some local told as a small path, which lead us directly there. Also the coastal path was starting right away at the house, which was just luck on our side. We dropped our stuff, went to a local supermarket and stocked up. I am sure that this village has restaurants, but we fell asleep pretty earlier due to getting up at 3:45am that day.
View from our room
Hafod Y Coed B&B
Followed this sign all along the way
Accomodation
Hafod Y Coed - Great B&B. Awesome views. Nice breakfast. The first people we met there, were germans actually. Small world.
Llanfairfechan to Bangor
The first day started with great weather, a tour starting at the sea and then going into the countryside. Where we promptly got lost in an industrial area, but managed to recover quickly thanks to the detailed maps. Also, we thought for quite some while, that we are almost there - I think for about 1.5 hours. In retrospective, we were just not used to longer walks.
Anglesey on the other side
Low tides
They are everywhere...
They just must be genetically engineered
Muddy...
A small stream with a bridge leading over
Tides are coming in fast
King of the hill
Some ships between Anglesey and Bangor
The last mile... was tough
Accomodation
We were at Ashbrook Bangor B&B, which is in the middle of nowhere, but only a few hundred meters distanced to the coastal path. Huge and new rooms, great breakfast, but we had two walk 25 minutes to get into Bangor again and have something to eat. Also, the owners did not really seem to know, that the coastal path is right in front of them, as they talked about a path being in Pembroke and at Anglesey (the island nearby). In addition an own homepage might help.
Bangor to Caernarfon
The route from Bangor to Caernarfon starts nice, but then leads along a main street. Also the signs were quite bad, but we could focus by using the maps again. We could have crossed Menai bridge and went over to Anglesey, but then we would have spent all the time on that Island, as it is really huge. So we decided to skip it completely. If you are ever in Caernarfon, and like indish food, go to Bengal Spice in Palace Street. Awesome food, excellent fresh naan. Also, you can restock here, supermarkets are nearby.
Menai bridge, where you could go over to Anglesey
Going through nice parks...
... with nice trees
Going along A487 for about three kilometres
Making a break in Y Felinheli
Before dinner...
... getting dark quickly after dinner
Accomodation
Cartref Guesthouse - Not good. Not bad. Standard B&B.
Pwllheli to Criccieth
Unfortunately, we had to skip one of the most promising parts of the north, as not a single B&B was available. There are a couple of cottages on the way, but nothing suitable for one night. So we skipped huge parts of the Llŷn Peninsula and took the bus to Pwelheli, which took long 45 minutes, where we came across quite some steep hills near the coast.
We started in Pwelheli near the port and got immediately into the countryside, along another main road, then walked a pedestrian only street and finally got back to the beach. We walked for some time along the beach, but after a couple of kilometres the path again moves you into the main road A497, because you need to cross a river and the train rails go directly along the water without any place left for a path. When we arrived at Criccieth, weather finally cleared, but we were too tired to actually do another walk around Criccieth Castle.
Nearby the first part walking along the main road
Returning to the sea
...back again
before Penychain
Going from the main road towards the water... again
Dont be afraid, even if they directly lay in your path
Afon Dwyfor, the river without bridge, which leads to huge way around it
View from our B&B
Accomodation
Sea Spray Guesthouse - Awesome view, nice breakfast. As the trip was a longer one today, we were pretty exhausted and did not walk around in Criccieth a lot, but I think there are supermarkets and restaurants.
Criccieth to Porthmadog
One of the days with the best wheather. Started at Criccieth to a relaxed trip to Porthmadog. We had to stop here, otherwise we would have had a full day of walking, as B&B's were rare. You are starting near the sea, then go a bit into the countryside, along the rails, up a a small hill and then directly to Black Rock Sands - which is a beach, where cars are allowed. If you pass that beach, you pass along a golf course and can take a break in a wonderful small bay, where no cars are allowed.
Porthmadog itself is a small village, with lots of tourists, a couple of nice restaurants. You can also restock, as there are a couple of big supermarkets. Also, the purple moose brewery is located here - I did not buy anything from the shop, as I did not want to carry it, but the logo is one of the most awesome ones with its simplicity but high recognition. Also, the beer is nice.
Criccieth in front of the b&b
Snowdonia mountains in the back
No german standards...
... in train security distances
This is considered secure
Up the hill from the last image
Black rock sands
Non-car accessible bay
Golf course and the non-car accessible bay
Borth-Y-Gest
Accomodation
Old Bakehouse - We decided to stay three nights in Porthmadog, because we thought, it would be a bigger town and we wanted to walk around a a bit. However it is quite small. We were at the Old Bakehouse and had a really tiny room, a bit bigger than the bed and quite expensive. So nothing spectacular. I would spent one night in Porthmadog and then move on, if you do not intend to go into the country side but follow the coastal path.
Blaenau Ffestiniog
As we wanted to see at least a bit of Snowdonia, we decided to get to Blaenau Ffestiniog (I still cannot pronounce it, to be honest). You can go by steam rail for over 40 pounds or take the bus for about 6,40 pounds for two persons. We took the bus, saw a bit of the countryside. However we were really unlucky that day. We walked up to Tanygrisiau and had wanted to walk a bit further cross the hills, but the fog was really heavy and we could not see anything - not even where came from after 50 meters. So we walked around a bit, took a couple of photos and went home again.
Foggy day...
... still
The reservoir lake
Unpronouncable
Talsarnau to Harlech
As we walked a bit of the coastal path the day before already, we decided not to too far into the countryside (it is quite a bit) and took the train to Talsarnau. We got pretty quick to a swamp like area with lots of sheep, which quickly changed to some fern covered hills (including a couple of long time dead sheep lying directly on the path, not the greatest thing ever), got a quick peek to the sea afterwards, before we want into the countryside again for the rest of day, where we crossed cow and sheep farms and range lands, until we got to Harlech. Pro tip: Harlech has a castle, goes quite steep up, so check upfront where your B&B is, ours was quite up the hills (hence its name). There is a small super market to restock as well. Also this day, we met another walker, who warned us about bad path labels ahead of us - turned out, he was more than right.
Ready...
Looks like a romantic hug, but I really only got out the sun-lotion :-)
Swamp and sheeps
Sunny
A bridge built for the path
Hidden in ferns
Portmeirion on the other side
The sign... always makes you feel good
An incredible ugly crossing between sheep and pig... it really squeaks!
Cows at a gate
Not a lot of sea today
Our awesome B&B, patriotism everywhere
Morfa Harlech is a whole dune system
Finally back at the sea...
Harlech castle
Accomodation
Pen Y Garth - Great one. View to the sea, new bathroom, fresh milk, free to use fridge, very friendly owners. Highly recommended!
Harlech to Dyffryn
One of our longer tours. Started in Harlech, walked along the beach until we crossed the rails again, walked past Llandanwg, around a bay at Pen-Sarn, than across an old air field and it took us ages to get to the sea again, when we walked across the dunes. Also we lost the path signs at that stage, but as we only needed to back to the sea, we thought it would be easy. Walking through the dunes can be quite exhausting. Also you get to walk along roads for quite some time here, so this is not a really nice route when you are away from the sea.
Danger! :-)
Harlech Castle from the Dunes
Morfa Harlech
Crossing the rails again (in the front) and going up
No, cant spell it...
Its tiny train station
Llanbedr air field
Took us over an hour from the air field to the beach through Dyffryn Beach
... not yet ...
Yeah, finally!
Accomodation
The Old Farmhouse - Nice accomodation. Also has a pool, but we were too tired to make use of it. Also, awesome breakfast on one table with all the other visitors, which was quite fun, as we met people from Canada and some locals who helped creating the coastal path. Quite off the path, you need to walk at least twenty minutes to get there.
Dyffryn to Barmouth
Another day walking along the coast merely (though I think the official path goes somewhere else, we lost it pretty early and decided to go along the coast instead). Despite a lot of wind and many clouds it was a nice walk. Barmouth itself feels like you are being teleported back into the 80s. There is 80s style leisure park right at the coastal strip. It is really, uhm.. freaky? Cant find words for it to be honest. The hotel with its awesome view is one of the cheapest, but this is what you get, when you fill up the whole coastal strip with hotels.
Getting back to the path
Windy and cloudy today
Seeing caravans for kilometres makes you watching the sea primarly
Next days route in the background
Due to high tide we had to walk the official path and could not walk along the sea
Barmouth wave breakers
Our B&B view to the sea
Accomodation
Belle Vue Hotel - Awesome view (see the picture), nice breakfast and quite cheap. Supermarkets to restock, also restaurants available.
Barmouth to Llwyngwril
Remember the walker warning us about the bad path signs? This was our day of awfulness. A lot of back and forth. But let us start slowly. We got up and running with a nice and fresh coffee in Barmouth and crossed the Barmouth bridge. And then the first problem came up. At the Morfa Mawddach railway station we could not get back to the coastal path due to construction work. But there were absolutely no signs for an alternative road. Luckily the PDFs proved good enough again, but we had to walk along the A493 main road with no foot path for three kilometres, until we reached Fairbourne.
Now navigation got really bad. We guessed our way up an hill and it turned out to be right. At the top of the hill the sign was back. We walked up a quarry, where we found signs for the coastal path to two different directions (and we came from third). Again we guessed right. From the quarry you go up another small hill into range land, where we didnt see the sign for about three kilometres, but we knew we had to go into that direction. If you are on a brand new tarmarced street, you are right. Also you are quite up high here, because you can watch fighter jets flying below you near the sea. Also meeting a bull in front of you without warning makes you kinda nervous, if you dont have escape routes. Again, seeing a couple of dead sheep near the path, as this day is basically full of sheep.
Last but not least, noone at our B&B was at home, so we lay a bit at the sea. There is a small super market to restock, but it only has a few pieces.
Barmouth bridge in the background
Almost there
From the bridge into the countryside
A quarry, took is quite some time up there
beautiful path today
Looking back at Fairbourne and Barmouth
On our way to Llwyngwril
The coast of Llwyngwril
Accomodation
Coed Talon - The host forgot about us, because someone else cancelled, so we got to sit a while in the garden with tea and biscuits. Also very nice breakfast. There are only one or two other options in town.
Llwyngwril to Tywyn
So we thought, the bad signs are done now. But we forgot, that the walker we met actually walked 30-40 kilometers a day. So, yeah, this day was even worse than the first one, as we really got off the path and had no easy possibility to find it again. We could not see the sea and thus had no point of orientation. After getting up the hills again from Llwyngwril we lost the path pretty quickly and got sucked land inward, we then tried to head back to the sea. Suddenly we got back to the path only to loose it again after five hundred meters.
But thats not it yet. We knew that in June of this year a bridge had opened, which meant, that we didnt have to take a 20km route around the Afon Dysysnni. Unfortunately the coastal path labels for the old path are still there, so we had to cross non coastal-path farm land to get from the path to the bridge. After crossing the bridge we decided to stick with the coast again instead of path, as this day was really bad again in terms of labelling - maybe it is only if you are coming from this direction, but still it sucked.
Tywyn itself is a nice small town with supermarkets and also a couple of restaurants. We went to a freshly opened restaurant, which didnt have a license yet for selling alcohol, but the food was nice. During breakfast the next morning, someone mentioned dolphins outside in the bay, but we apparently came late for the show. As all the others.
Up the hills again...
Nowhere near the coastal path
... maybe ...
back again
yeah, they are watching me!
Thats Dysyinni bridge over there where we had wanted to be
back at the sea...
... finally
Accomodation
Arthur Guest House - The Arthur Guest House is directly at the sea and the coastal path. The host is a nice guy who runs this after he quit his job as designer. He warned us about Rhyl. Damn, was he right.
Tywyn to Aberdovey
Our last day walking southwards, only a couple of kilometres towards Aberdovey. The reason we stopped in Aberdovey was, that we would have to walk into the countryside for about 25 kilometres and our time ran out. Aberdovey itself is a wonderful small village, just check out the photos. Getting back to the north was a bit of a journey. We went to Machynlleth, then to Dolgellau (which gets the award for the most unfriendly tourist office women I have ever met), then to Blaenau Ffestiniog and then to LLandudno.
Cloudy start at Tywyn
Met less than 10 people in kilometers of beach
... lots of beach
A sand mushroom - WTF?!
And suddenly - awesome wheather
Into the bay of aberdovey
A fellow watching us drinking coffee in Aberdovey (distanced 30cm)
View from our hotel room at 6am
Waiting for the bus to Machynlleth
Accomodation
Dovey Inn - One of the top accomodations we had in this holiday. New rooms, perfect bath rooms, view into the sea and even a nice restaurant inside. There are a couple of restaurants in Aberdovey, the village itself is quite touristic.
Llandudno
We thought this is a nice little village, but unfortunately it is a purely touristic town. Hotels everywhere, restaurants and cafes everywhere, not what we wanted to have. However, Llandudno is sorrounded by two small hills called Great Orme and Little Orme, so we walked onto them. The Great Orme features a motor road around, which costs money and has a cable car going up (and a parking lot), so there was lots of tourism - again you dont meet anyone when you walk up. The little one is completely natural and we didnt meet anyone there.
A pool in front of the sea at the bay - why not
View from Little Orme to Great Orme
On top of Little Orme
Llandudno bay
Ascending Great Orme, view to Llandudno pier
Follow the sign...
talking about signs... different countries, different signs
On top of Great Orme
Descending again
Ramsey Island
Deganwy on the left
Accomodation
Lynton House - Nice breakfast, with fresh fruits. Ok rooms. Yet in Llandudno. :-)
Llandunas to Rhyl
After taking the bus to Llandunas, we managed to back to the sea quickly. We walked along the coast, but basically the whole coast to Rhyl consisted of caravans and trailer parks - right next to the path. The most of the way was pretty ugly, but actually Rhyl managed to top that. The whole coastside in Rhyl is covered with concrete, again all 80s style. When we entered our b&b, the first question was, why we chose Rhyl. When we asked for something nice to see, we were actually sent to where we came from. I guess this pretty much describes the city. There is absolutely no reason to stay longer than necessary here. The Seaquarium is nice, if you like rays, though.
Not much to see on the way to Rhyl, seeing the sea was rare due to wave breakers.
Accomodation
The pier hotel - One of the most expensive ones of our trip, with an old bathroom (it even started to leak water while we were there). So, like the city, no recommendation here.
Maps
We went with the downloadable PDFs from the official Wales Coastal Path site - they work pretty well, if you inform yourself a bit before, where supermarkets and ATMs are.
Gear
Have good gear, but dont go nuts - that is what we tried to do. Here is a short list of what you should bring with you
Rain jacket, rain trousers (and normal ones)
Fleece jacket (against the wind), maybe a soft shell jacket is enough, climate is mild
One long sleeve, scarf like thing
Good, high shoes with profile
A couple of fast drying shirts, socks, underwear
Second pair of shoes for the evening
Had a 45 litres back pack, which was not filled, but weighed about 15kg including three litres of water and food for two days (make sure the rain protection can be clipped somewhere at your backpack due to the wind)
Sun cream, after sun lotion - you are sweating a lot at the beginning and wash off the sun protection
Ebook reader
Power converter
Plasters
Things we did not need
GPS device. You usually find your way, but you might need to have some luck as well from time to time. The official PDFs are great, but you need to pay attention for details in order to identify your environment and current location. On three days a GPS device might have been handy… but also boring :-)
Commercial maps. We bought a couple of them, but decided to leave them at home. Too big, too heavy, too much countryside and not detailed enough.
And to prove it, that we really went light again this year (yes, those are all the things both of us carried!)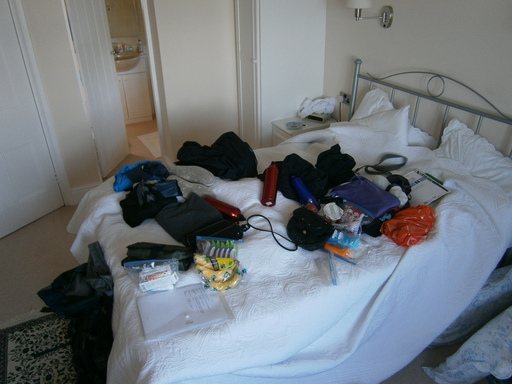 Summary
As the first one, this trip was great. Be prepared to see a different country side than in Pembrokeshire. Also be prepared, that there are a lot more caravan sites, confusing path labels and the path goes along a main road every now and then. On the other hand, walking along a sand beach for the whole day along with listening to clashing waves all the time is just beautiful.
I think we met five or six other walkers in total, so it is really an empty path up here. If you like not meeting people, this is your way to go.
If you have to chose, you should choose about the order of visits and not which part of the coastal path you come along.
If you have any question, check the imprint and feel free to write me a mail anytime